---
News
Napoli's raises $16,000 for Roger's House | Jan 02, 2016 John Curry, Stittsville News
Stittsville News
By John Curry

It was an evening with six Ottawa Senators, a dancing Bassel Khalil and lots of fun, food and fundraising.

In the end, about $16,000 was raised at this annual Christmas fundraiser at Napoli's Café in Stittsville for Roger's House, the paediatric residential hospice for families with children who are living with a life limiting illness located on the grounds of the Children's Hospital of Eastern Ontario.

Once again this year, Napoli's Café was packed for the event on Thursday evening, Dec. 17. Indeed, virtually everyone returns year after year for this Christmas fundraiser. The event is always sold out and only about five or so places come up each year for new people to attend as everyone wants to return.

This year six members of the Ottawa Senators attended including Mark Stone, Cody Ceci, Chris Wideman, Curtis Lazar, Craig Anderson and Andrew Hammond. These hockey players attended despite a busy December schedule that saw them play in Washington the night before and play at home at the Canadian Tire Centre on the following night, Friday.

A win for Roger's House
John Curry
Ottawa Senators players Mark Stone, Cody Ceci, Chris Wideman, Curtis Lazar, Craig Anderson and Andrew Hammond were on hand to help Napoli's Café raise $16,000 for Roger's House during their annual event last month.
The players talked with those in attendance and helped hand out some of the prizes and gifts during the evening.

And one of the highlights of the evening was the auctioning off of a date with Ottawa Senator Chris Wideman.

The Ottawa Senators also made a dream come true for some youngsters as one of the auction items at the event was the opportunity for some youngsters to play road hockey with the Senators players.

Bassel Khalil was not only the auctioneer but also showed off his dancing talents again this year, showing his moves while on the railing in the middle of the restaurant. His moves paid off, as guest after guest tried stuffing money down his pants, all for the sake of charity, of course.

Among those in attendance at this Christmas fundraiser was Ottawa Senators president Cyril Leeder and his wife Lydia as well as many long time Napoli customers.

The evening began with an open bar cocktail hour along with lots of hors d'oeuvres which made the rounds. Everyone had an opportunity to mingle and catch up with old friends.

Everyone got into the spirit of Christmas as the Napoli's servers were wearing seasonal outfits with the restaurant also featuring holiday decorations. There was even a red carpet spread outside the restaurant entrance.

Many of these seasonal touches were thanks to Bassel's daughter Nicole who is an event planner and is now taking a role in the restaurant's special events and charity functions.

There was Christmas music playing in the background to add to the festive mood of the event. In addition, Neil Graves captured the flavour of the evening as he took numerous photographs of the guests having fun and socializing.

After the delicious dinner which was prepared by Milad Khalil and his kitchen staff, Bassel thanked all those who attended. He thanked the donors and supporters who have supported this Christmas fundraiser at Napoli's over the years. He also thanked the Ottawa Sens players for attending.

The raffle and live auction followed, with all of the proceeds going to Roger's House.

All of those present went home with a gift including a bottle of wine.

Sponsors and donors who helped make this year's Christmas fundraiser at Napoli's Café such a success included Jeff Milbury of Labatt's; Robert Doherty of Charton Hobbs; Joey Harrison of Decisive; John Stanton of Myers Motors Kanata; Todd Brown of Brown's Your Independent Grocer; Mark Seabrook of Canadian Golf and Country Club; Mathew Powell of Creemore Springs; Tino Filice of Italfoods; Tannis Trading; Mike Swartzack of Sports Experts; Christy Ashton of Mark Anthony Brands; Shawn Lariviere of Glazer's Canada; Jennifer and Neil Graves of Brookstreet Hotel; Kurtis Williams of Constellation Brands; Montana Coffee; Archer Chemicals; Canadian Line; Orleans Fresh Fruit; Bagel Bagel; Kaufman Seafood; and Colio Estates Wines.
---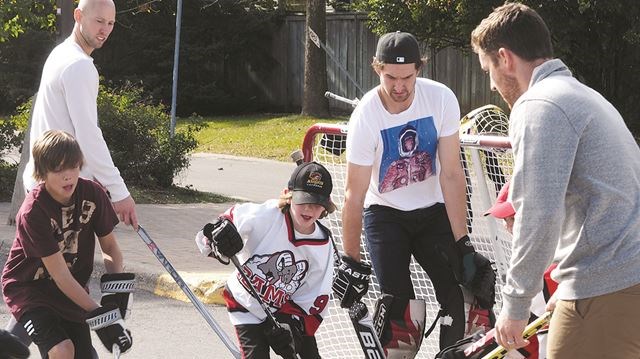 Parking lot becomes 'rink of dreams' | Thu., Oct 08, 2015 John Curry
Usually it's a parking lot beside Napoli's Café at the Stittsville Shopping Centre in Stittsville. But last Sunday afternoon it became a "rink of dreams."
And when it comes to dreams, for a young hockey player, there is no greater dream than to play hockey, be it on ice or on the pavement of a parking lot, with players from the hometown NHL team, the Ottawa Senators.
This is what happened last Sunday afternoon when the Stittsville Minor Atom RAMS team played a road hockey game against five Ottawa Senators – Craig Anderson, Curtis Lazar, Mark Stone, Chris Wideman and Andrew Hammond. Just the night before, Mark Stone and Chris Wideman had both scored goals for the Senators in a 5-4 exhibition game win over the Montreal Canadiens at the Canadian Tire Centre. Now here they were, passing, shooting and defending in a road hockey game against this team of Stittsville minor hockey players in their white RAMS jerseys. It doesn't get any better than this – it's a dream come true.
• Follow us on Facebook at:
and
• sign up to our VIP email list
to stay up to date on special offers and upcoming events.
---